"Antidote Lyrics" by Jugraj Sandhu is new latest Punjabi song sung by Jugraj Sandhu at 2021. Antidot Song Lyrics are written by Shivjot while the music is given by The Boss and the video is directed by Prince810. It featuring Anjali Arora.
Antidote – Jugraj Sandhu Lyrics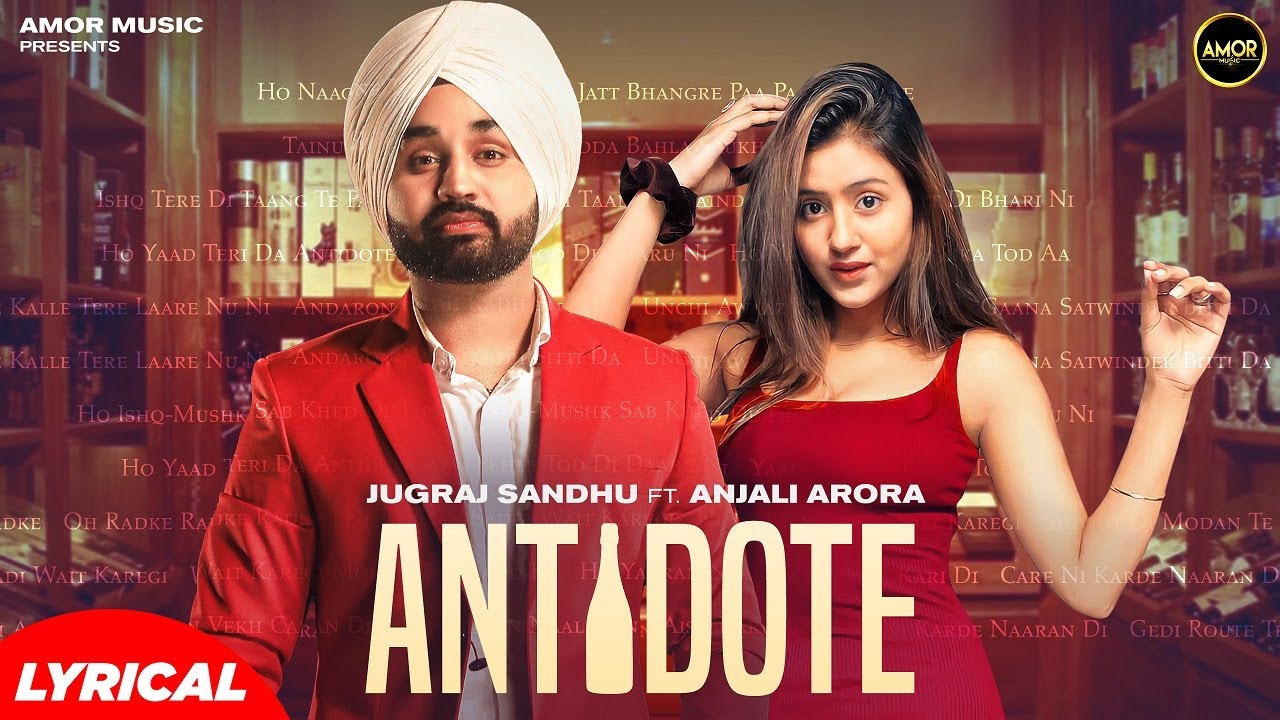 Lyrics …
Ho Naagne Tere Danga Nu
Jatt Bhangre Paa Paa Jarda Ae
Tainu Si Jatt Mar Juga
Sadda Bahla Saukha Sarda Ae
Ishq Tere Di Taang Te Paindi
Ishq Tere Di Taang Te Paindi
Ho Mehfil Jatt Di Bhari Ni
Ho Yaad Teri Da Antidote Aa
Pehle Tod Di Daaru Ni
Ho Yaad Teri Da Pakka Tod Aa
Pehle Tod Di
The Boss!
Ho Kalle Kalle Tere Laare Nu Ni
Andaron Kadh Kadh Sitti Da
Unchi Awaaz Te Full Chalde
Gaana Satwinder Bitti Da
Ho Kalle Kalle Tere Laare Nu Ni
Andaron Kadh Kadh Sitti Da
Unchi Awaaz Te Full Chalde
Gaana Satwinder Bitti Da
Ho Ishq-Mushk Sab Khed De Firde
Ishq-Mushk Sab Khed De Firde
Eh Ki Saanu Maaru Ni
Ho Yaad Teri Da Antidote Aa
Pehle Tod Di Daaru Ni
Yaad Teri Da Pakka Tod Aa
Pehle Tod Di
Ho Radke Radke Radke
Oh Radke Radke Radke
Ni Tu Taan Saddi Wait Karegi
Ni Tu Taan Billo Wait Karegi
Shivjot Di Modan Te Khadd Ke
Tu Taan Sadi Wait Karegi
Wait Karegi Modan Te Khadd Ke
Ho Yaaran Naal Hunn Aish Kari Di
Care Ni Karde Naaran Di
Gedi Route Te Dhaak Paindi Aa
Lishk Diyan Vekh Caran Di
Ho Yaaran Naal Hunn Aish Kari Di
Care Ni Karde Naaran Di
Gedi Route Te Dhaak Paindi Aa
Chakvian Chakvian Caran Di
Ho Innocent Jinu Kehndi Si Tu
Sweet Jeha Jinu Kehndi Si
Hunn Ohi Khapp Khilaaru Ni
Ho Yaad Teri Da Antidote Aa
Pehle Tod Di Daaru Ni
Ho Yaad Teri Da Pakka Tod Aa
Pehle Tod Di Daaru Ni
Are you looking to download this song – Click Here