"Phir Se Ud Chala Lyrics In English" from the movie of Rockstar, is sung by Mohit Chauhan. The Song Lyrics are written by Irshad Kamil while the music is given by A R Rahman and it starring Ranbir Kapoor, Nargis Fakhri, Shammi Kapoor, Shikha Jain.
Phir Se Ud Chala – Mohit Chauhan Lyrics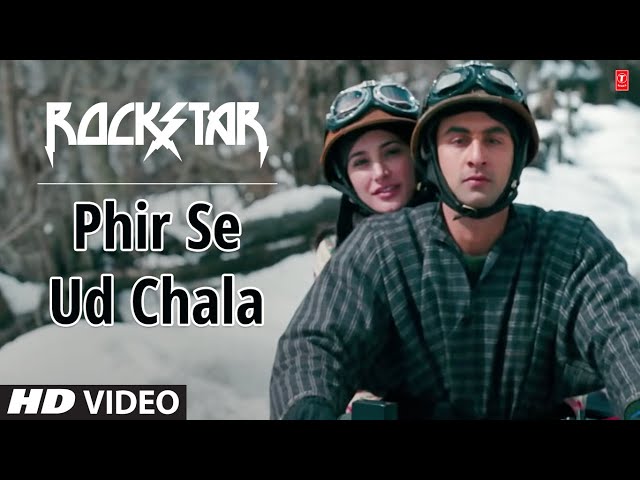 Lyrics …
Oo ho ho
Phir se ud chala
Ud ke choda hai jahaan
Neech mein tumhare
Ab hoon hawale
Door door log baag
Meelon door yeh vaadiyan
Ghar dhuaan dhuaan tan
Har badli chali aati hai choone
Aur koi badli kabhi kahi kar de
Tan geela yeh hai bina ho
Kisi manzar par main ruka nahin
Kabhi khud se bhi mein mila nahin
Yeh gila toh hai main khafa nahin
Shehar ek se gaon ek se
Log ek se naam ek oo
Phir se ud chala main
Pitti jaise sapne
Yeh kitaabi palkon se
Jhaado phir aa jaate hain
Itne saare sapne kya kahoon
Kis tarah se maine tode hain
Chode hain kyun
Phir saath chale mujhe le ke
Ude yeh kyun oo
Kabhi daal daal kabhi paat paat
Mere saath saath phir dar dar yeh
Kabhi sehera kabhi saavan
Banu raavan kyun mann manke
Kabhi daal daal kabhi paat paat
Kabhi din hai raat kabhi dinmin hai
Kya sach hai kya maya
Hai daata hai daata
Idhar uudhar titar bitar
Kya hai pata hawa
Liye jaye teri ore
Kheenche teri yaaden
Teri yaaden teri ore
Rang birange vehmon mein
Main udaas kyun
Rang birange vehmon mein
Main udaas kyun
Ooho ho.
Phir Se Ud Chala Lyrics Download
Are you looking to download this song – Click Here