"Shareeka Lyrics in English" by Jasmeen Akhtar, is new latest Punjabi song sung by Jasmeen Akhtar at 2021. Sharika Song Lyrics are written by Gopi Bhairupa while the music is given by Music Empire and the video is directed by Yass Bhullar.
Shareeka – Jasmeen Akhtar Lyrics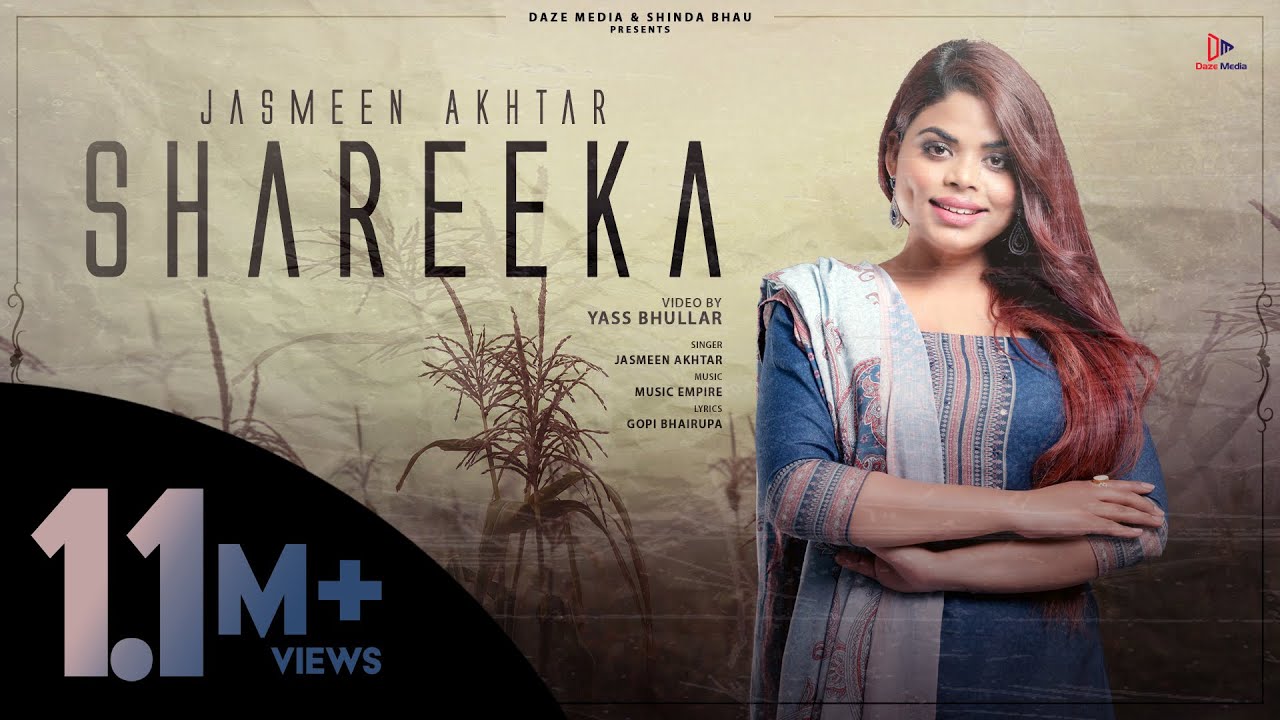 | | |
| --- | --- |
| Singer | Jasmeen Akhtar |
| Music | Music Empire |
| Song Writer | Gopi Bhairupa |
Lyrics …
Ho Chaakmi janaani saada ghar patt'di
Viah toh baad jatta Aashiqui ni Faff'di
Ho Koli Chhat Bande kolo Doori Rakhiye
koli chhat bande kolo doori rakhiye
Kade ghar ch naa peen daiye pair soniya
Ho cheera tak baliye Oo naahiyoo mukk'daa
Maada Hunnda ae Shareeke Vich Vair Soniya
Music Empire …
Ho ghaar'di zaawai tee na muure boliye
Muukat mobile kisse da naa khooliye
Maapiya da kaade naaiyoo maan toodida
Aag ch zamina peaira vich roliye
Ho saadh tee fakir jee koi ghar aajave
saadh tee fair jee koi ghar aajave
Kaade moodi'da ni bina paaye kheer soniyaa..
Ho cheera tak baaliya o naiyoo mukk'da
Maada hunnda ae Shareeka vich vair soniya.. x2
Ho kuddiya de ghar bhauta naaiyoo jaee'da
Gheera sang beth'ke kaade nai khaai'da
Kisse uute thoda ehsaan karke
Galliyaa de vich ave naaiyoo gaai'da
Ho annkha'de utte jaadoo gall aa'jave
Annkha'de utte jadoo gall aa'jave
Landon ve chaake jaande vair soniya
Ho cheera tak baaliya o naiyoo mukk'da
Maada hunnda ae Shareeke vich vair soniya ..x2
Ho dil ch naa kisse laaye khot rakhiye
Na Guru ghar jaade kaade maada takkiye
Rab di raaja ch saada rehna chahida
Kaade majboor da na faaida chakiye
Kaade majboor da na faaida chakiye
Ho bhairupa waala Gopi likhe thok'ke
Bhairupa waala Gopi likhe thok'ke
Fooke fawa vich chaddi'da ni fair soniya
Ho cheera tak baaliya o naiyoo mukk'da
Maada Hunnda ae Shareeka vich vair soniya
Ho cheera tak baaliya o naiyoo mukk'da
Maada Hunnda ae Shareeka vich vair soniya
Are you looking to download this song – Click Here