"Tera Deedar Hua Lyrics" from the movie of Jannat 2, is sung by Rahat Fateh Ali Khan and its second version is sung by Javed Ali. Tera Deedar Hua Song Lyrics are written by Sanjay Masoomm while the music is given by Pritam & Anupam Amod and it starring Emraan Hashmi, Randeep Hooda and Esha Gupta.
Tera Deedar Hua – Rahat Fateh Ali Khan Lyrics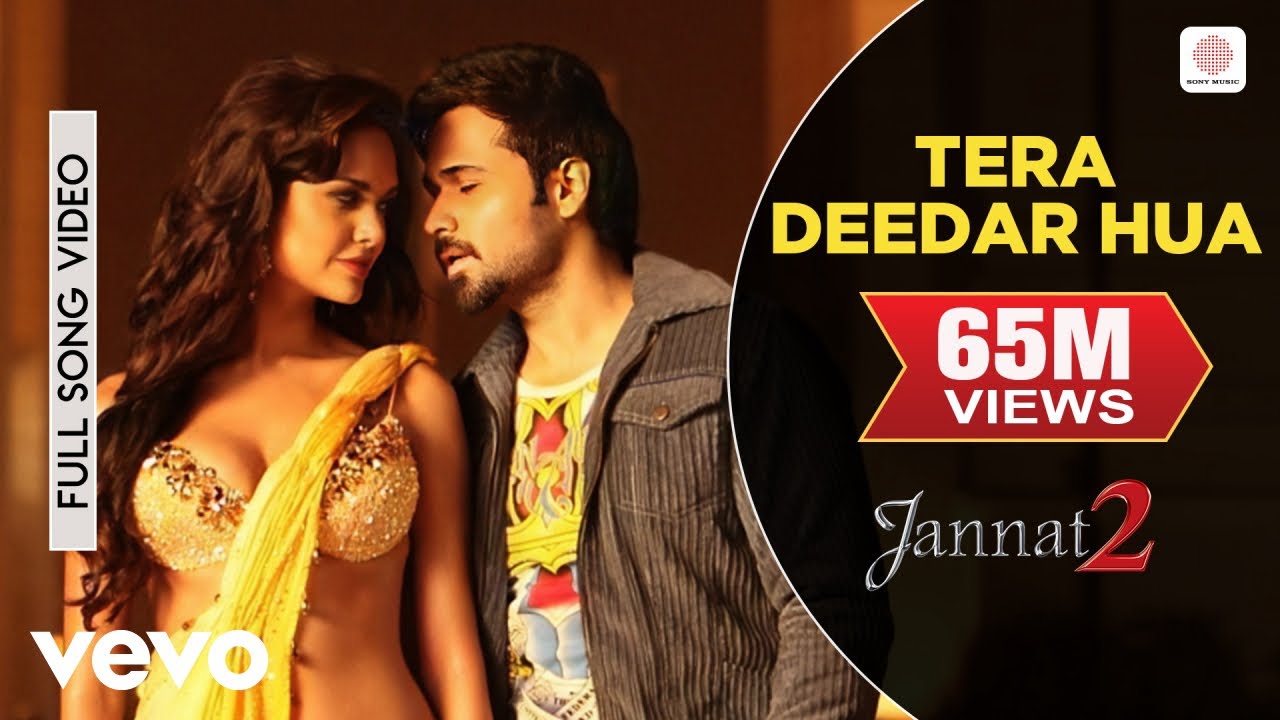 Lyrics …
Yun tera muskurana
Aur aake chale jaana
Yun tera muskurana aur aake chale jaana
Kismat ka hai khul jaana
Tera Deedar Hua, pehla sa pyar hua
Pehli hi baar hua iss dil ko
Naa toh inkaar hua
Naa hi iqraar hua
Jaane kya yaar hua iss dil ko (x2)
Re ga ra re…..
Tujhse mila toh jaagi duaayein
Aur nazaro ne sajda kiya
Jannat zameen par aayi utar ke
Khushiyon ne jaise chun sa liya (x2)
Har manzar dilnasheen hai
Tu hi tu har kahin hai
Oh.. teri ye rajayein toh hai qatilana
Tera Deedar Hua, pehla sa pyar hua
Pehli hi baar hua iss dil ko
Naa toh inkaar hua
Naa hi iqraar hua
Jaane kya yaar hua iss dil ko
Tere bina tanha tha hardam
Hothon pe hardam thi tishnagi
Maqsad nahi tha, sapne nahi thay
Thi zindagi mein aawargi
Tu mera rehnuma hai
Manzil hai raasta hai
O mere liye tu toh jaise
Rab ka hai nazrana
Tera Deedar Hua, pehla sa pyar hua
Pehli hi baar hua iss dil ko
Naa toh inkaar hua
Naa hi iqraar hua
Jaane kya yaar hua iss dil ko
Yun tera muskurana aur aake chale jaana
Yun tera muskurana aur aake chale jaana
Kismat ka hai khul jaana
Tera Deedar Hua, pehla sa pyar hua
Pehli hi baar hua iss dil ko
Naa toh inkaar hua
Naa hi iqraar hua
Jaane kya yaar hua iss dil ko
Are you looking to download this song – Click Here