"Till Death Lyrics" by Parmish Verma, is latest Punjabi song sung by Parmish Verma in 2021. Till Death Song Lyrics are written by Laddi Chahal while the music is given by Yeah Proof, and the video is directed by Parmish Verma, Agam Mann, & Azeem Mann.
Till Death – Parmish Verma Ft. Laddi Chahal Lyrics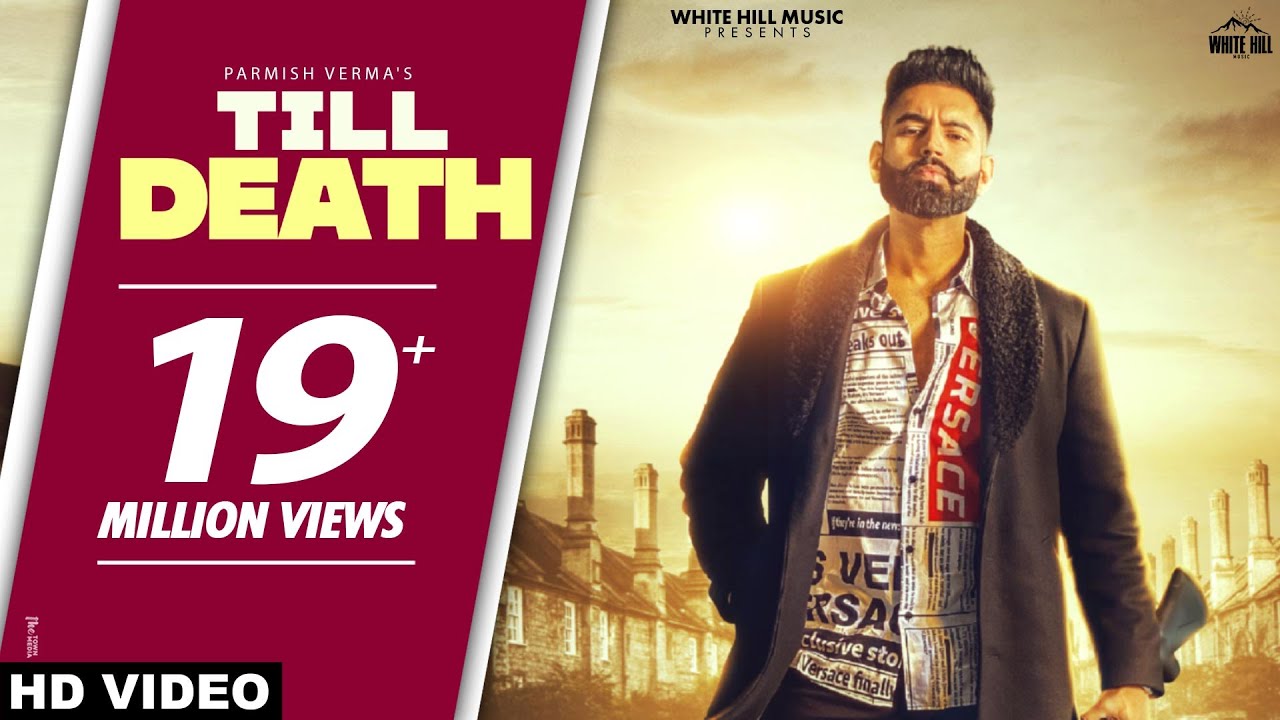 Till Death Song Lyrics
Yeah Proof!
Ho meeting'an ch chakar hi peya hunda mej te
Ni holster paa ke munda chadhda stage te
Dharti halai ae jawani wali age
Vairi Louis Vuitton thalle
Tu ae dil wali sej te
Deadly weapon munda rakhda ae dabb billo
Car meri kade exhaust'an ch agg deve
Rab aivein sadde kolon sad'de ae sab
Saddi takda chadhai khad khad saara jag
Habbit'an vi saddiyan ae rehni ne till death
Ajj jo ohi main gallan kehniyan ne till death
Ho jaye bhawein change meri Range lawan jet vich
Toliya puraniyan hi behniya ne till death
Habbit'an vi saddiyan ae rehni ne till death
Ajj jo ohi main gallan kehniyan ne till death
Ho jaye bhawein change meri Range lawan jet vich
Toliya puraniyan hi behniya ne till death
Till death
Till death
Ho sachi karan gall aivein jhooth nahio pheki de
Paap nu haraunde kaam mitran di neki de
Good bad time jinna naal beh ke seki de
Oh yaar azmayi de ni vairi jo ke dekhi de
Ho assi changeyan layi change
Mahdeya layi yamraj
Maar deyie nazran chon sit sit ni
Aa selfish yaaran wali yaari wala rang
Chheti chadhda te ohni chheti janda fit ni
Ohi sadde yaar dildaar rehne till death
Gaddiyan ch naal hathyar rehne till death
Ajj jehde ohi aa vichar rehne
Chadhdi kala ch kammkaar rehne till death
Ohi sadde yaar dildaar rehne till death
Gaddiyan ch naal hathyar rehne till death
Ajj jehde ohi aa vichar rehne
Chadhdi kala ch kammkaar rehne till death
Kudiyan layi hot munda
Vairiyan layi maut munda
On the spot munda kare kamm done ni
Jigre ton sher poora rajj ke deler
Modde rakhda ae test Reno wali gun
Munda AK 47 de brust jeha
Saale vairiyan layi vaily unjh mast jeha
Jedha tutte na ni aisi oh trust jeha
Zor hikk ch vi end te thrust jeha
Munda AK 47 de brust jeha
Saale vairiyan layi vaily unjh mast jeha
Jedha tutte na ni aisi oh trust jeha
Zor hikk ch vi end te thrust jeha
Ho dekhi chal dekhi dhauna phad ke ghamau
Ni tu laina ki ae dass saari duniya vikhau
Jinna poriyan mere na por por ke khandau
Ji ton jitteya ni main meri kalam harau
Jazbe te khoon ch ubaal rahu till death
Himmtan ch aina hi bhuchal rahu till death
Haunsla daleri naal naal rahu
Dekhi dhokebaajan di chakaunda
Laddi Chahal rahu till death
Till death
Till death
Till death
Na kalam ruku na mehnat
Te assi wang kaal de awange
Tu dekhi chal bas dekhi chal
Tufaan thaalde aawange
Tufaan thaalde aawange
Till death
Habbit'an vi saddiyan ae rehni ne till death
Ajj jo ohi main gallan kehniyan ne till death
Ho jaye bhawein change meri Range lawan jet vich
Toliya puraniyan hi behniya ne till death
Are you looking to download this song – Click Here